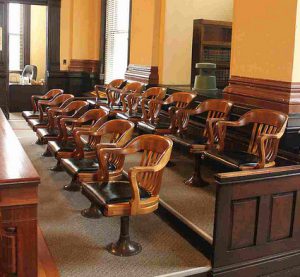 I have been called to jury duty twice, and both times I was released immediately for the mere fact that I am a court reporter, being told I know too much about the legal process and know too many attorneys.  So you can imagine my excitement when I was asked to be a CART (Communication Access Realtime Translation) provider for a hearing-impaired juror.  Not only was it my first opportunity to sit with a jury, but it was also my first murder trial.  Working as a freelance reporter, generally all of my work is civil in nature.
The trial went about as any typical trial does.  Having been an official reporter, I know the things that go on outside of the jury's presence.  This time, since I was sitting with the juror and none of that was presented to "us," I found myself envious of the official reporter.  I wanted to hear the bench conferences; I wanted to know why someone in the gallery was asked to leave; I wanted to know why certain witnesses and evidence was not presented; I wanted to know what both sides said about the jury instructions; I wanted to know the "history" of the case.  All things I otherwise would have known as the official reporter.
The case was closed and the time came for deliberations, which is what I was most excited about.  Having not been the CART provider for this particular voir dire selection, I did not know the background of any of the jurors.  I found myself intrigued by all of the different perspectives everyone had, wondering what their background is for them to hold the opinions they did, questioning in my mind why they thought certain things were or weren't important to the case, and speculating on evidence that was not presented.  It was interesting that everyone heard such different testimony from the same witness.  It was very difficult for me, when they would argue over what was or wasn't said, to not be able to just pull it up on the screen and show them, as I would do in a deposition setting.
As a freelance reporter, I usually only get to hear one side of the story and I never know the outcome of a case.  So you can imagine my frustration when the outcome ended up being a hung jury!
ABOUT THE AUTHOR:
Rhonda Lawrence is a court reporter with PRI Court Reporting, LLC, in Columbus, Ohio.  You can learn more about Rhonda here.  You can also follow PRI Court Reporting on Twitter and Facebook.