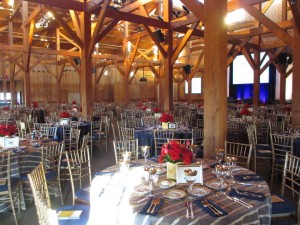 A Remarkable Evening – by Sara Clark, RPR/CRR/CCP/CBC
I had the unique opportunity last month to take an assignment for PRI Court Reporting at the 10th anniversary of The New Albany Community Foundation Remarkable Evening event, where former President Bill Clinton was the guest speaker.  PRI was asked to provide an overnight verbatim transcript of the President's remarks so there could be no possible "misquotations" of him.  I, of course, was beyond thrilled to be asked to cover this job.  After I cleared the required background check (what a relief that was!), I was ready for the big event.
I was asked to arrive three hours prior to the event starting.  When I turned onto Whitebarn Road in New Albany and saw the line of cars – and even buses – waiting to get on the grounds of the Wexner Estate, I knew why I was told to be there at 3:00.
After getting through the gates and making my way past the magnificent horse stables, I was told to follow a man driving a van, where I ended up parking in a hidden area behind a maintenance barn with the rest of "the help," and I was shuttled back to the Party Barn.  Not quite as glamorous as I had envisioned, but hey, I was there.
I made my way inside and found my contact who showed me where I would be sitting – in the front and slightly off to the side of the stage.  The only thing between me, President Clinton, and Les Wexner was the red velvet rope.  So cool!
It was a sold-out crowd of 500 New Albany supporters in the Party Barn, which is an amazing structure with its timber frame construction.  It is by far the most beautiful barn I will ever see.  The guests were wined and dined and some very prestigious awards were given before the President took the stage and talked about his group, The Clinton Foundation, and the work they are doing in Haiti since the devastating earthquake in 2010.  While his speech was intriguing (and challenging because he really got on a roll), the moment that will remain in the forefront of my memory is when he and I made eye contact and exchanged a smile.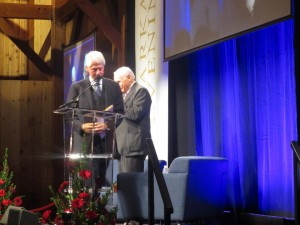 When the applause died down and the President left the building, I was free to pack up and catch the shuttle back to my car.  After seeing my husband and kids for a few minutes before bedtime, I grabbed a quick bite to eat and got back in the saddle and prepared the transcript for the client to see first thing in the morning.
This particular assignment will always be at the top of my list of the most memorable moments in my career.  I'm so proud to be a court reporter!