Do you have more online meetings or webinars currently due to COVID-19? Our live captioning solutions will provide equal access for all participants and help ensure compliance with the ADA.
PRI's highly trained stenographers can join your event remotely and provide instantaneous, accurate captioning. We can connect to many different videoconference platforms including Zoom, Webex, Blackboard, Teams, and many others.
You can read more about our experience below or just click to contact us for information and pricing!

Our Experience Will Benefit You and Your Client
Communication Access Realtime Translation (CART) is an instrumental tool for the person who is deaf or hard of hearing. This tool assists the person in participating in meetings, classes, lectures, interviews, medical appointments, and many other settings. Live captioning for events is also a very helpful tool in allowing people to have full access to the event.
Both of these methods of assistance are accomplished by having a court reporter listening and taking down what is being said and transmitting the feed to various formats of output for the person(s) in attendance. That may involve simply a personal laptop, an overhead projector (for a full room), or encoder for captioning. PRI court reporters have extensive experience in all of these methods.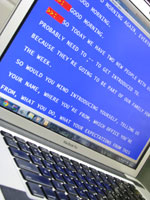 PRI was one of the first in the central Ohio area to offer Captioning/CART. PRI provided the first full-time realtime captioning on TV in Ohio for WCMH-4 in 1990 and was also the first in the state to provide CART for a deaf student at Columbus State Community College in 1992. PRI has continued to offer this service for Disability Services in colleges throughout Ohio, including The Ohio State University, Franklin University, Capital Law School, Denison University, and Ohio Dominican. Drawing on our technical expertise, PRI has also delivered remote CART services for students at Ohio University in Athens and the University of Toledo.
Schools and Universities
PRI Court Reporting can provide CART services for students and instructors.
One-on-one CART can be used where the student or instructor reads from a computer screen as the CART writer takes down what is being said.
Large-screen CART can be used in the classroom or meeting where the CART writer provides an overhead displaying the translation that can be read by a large group of people.
Seminar and Event CART/Captioning
Training seminars
Office meetings
Conventions
Political events
Sporting events
Large-screen CART is ideal for a large room of people needing the service.
PRI can also provide integrated captioning and video for events such as conferences, seminars, political events, and sporting events.
We have partnered with many groups that trust our reporters and value our services. Here are just a few:
New Albany Foundation
Greater Columbus Arts Council
Governor's Council on People with Disabilities
COHEAR
The Ohio State University (classrooms, conferences, football games, convocations, and commencements)
Download the Quick CART and Captioning Scheduling Checklist to help you make sure you have gathered all the details needed when scheduling your next CART or captioning event.